0
[Review] - A World of Keflings - It Came From Outer Space DLC
Posted by Siren on Oct 27 2011 04:02 AM in
Reviews
|
0 comments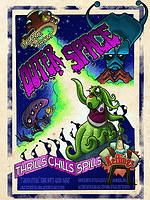 After selecting a new save, you are whisked away to a planet type land where you are greeted by two friendly and extremely helpful faces from
A World of Keflings
. With their help, you quickly find out that these small pint sized creatures have crashed and need to get back home with your help of course. How is a giant avatar suppose to land a hand to something that is other worldly? By building them a kingdom!
Nothing has changed with the easy peasy controls when it comes to crafting supplies and buildings. The land that you are given from the start is small and confining to work with providing a tiny bit of a challenge when it comes to placement of your new buildings, however it quickly opens up leaving you with room to build and place your robotic and alien style buildings that you will need to aid you in your kingdom building for your new friends.
With each building that you craft and new resources thay you gain, the joke filled and hilarious story continues. Seriously, how awesome would it be to live on planet "Yurbut"? Better yet how many jokes can you crack (no pun intended) from that one word?
It Came From Outer Space
adds a few extra hours of addicting gameplay that is worth every point of the 320 Microsoft price tag. The story is not awkward unlike many of it's Xbox Live Marketplace downloadable content brothers and sisters where it seems like developers just make up some DLC, slap a price on it, and expect gamers to bow down at their feet. Instead what Ninja Bee did with
It Came From Outer Space
was kept the kefling humor alive and well, combined that with their secret ingredient of making hours of addicting gameplay, and then tossed in some old school movie references which if you happen to take notice to, makes the DLC all the more sweeter.
In my final opinion, my kefling fix has been completed and Ninja Bee continues to deliver time and time again with their creative and unique take on the content that they create. Here is to hoping that Ninja Bee keeps making not only kefling games to fill my every kefling need, but also continues to grow and nurture their fresh ideas that this gaming industry needs.
So please stop reading this review, head over to the either to the Xbox Live Marketplace, download this gem,
It Came From Outer Space,
and prepare to once again get sucked in to A World of Keflings which is brought to you by the creative minds at Ninja Bee.
Article: [Review] - A World of Keflings - It Came From Outer Space DLC